About Pearls
Discover our pearls
Each piece of Yoko London jewellery has been carefully hand-crafted from the finest materials. Discover more about the types of cultured pearls we use, how to care for them and what gives pearls their value.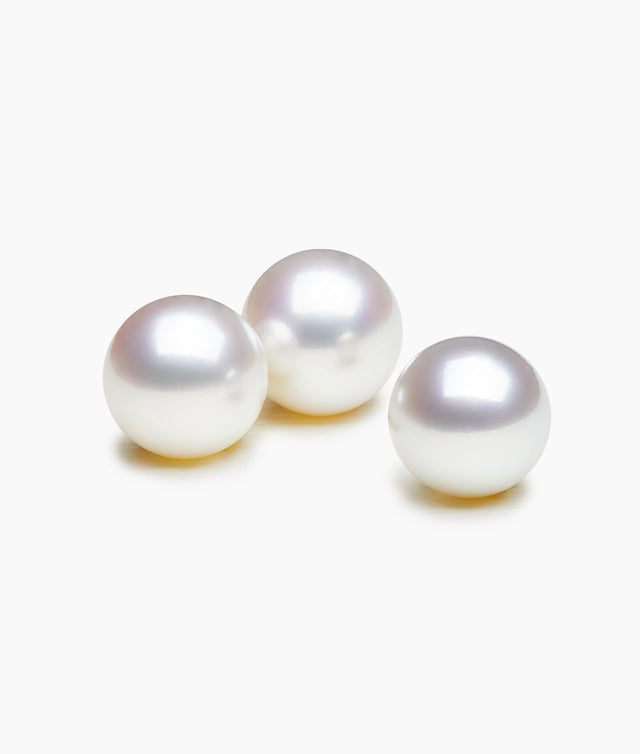 Australian South Sea Pearls
Australian South Sea pearls are regularly used in our most exclusive Yoko London collections such as Mayfair and High Jewellery, with some of our rarest South Sea pearls featured in our one of a kind masterpieces.

Shape: Round, Semi-round, Drop, Baroque
Colours: White
Size: 9-16mm readily available. 17mm + is much rarer in fine qualities.
Production: Salt Water Oyster around Australia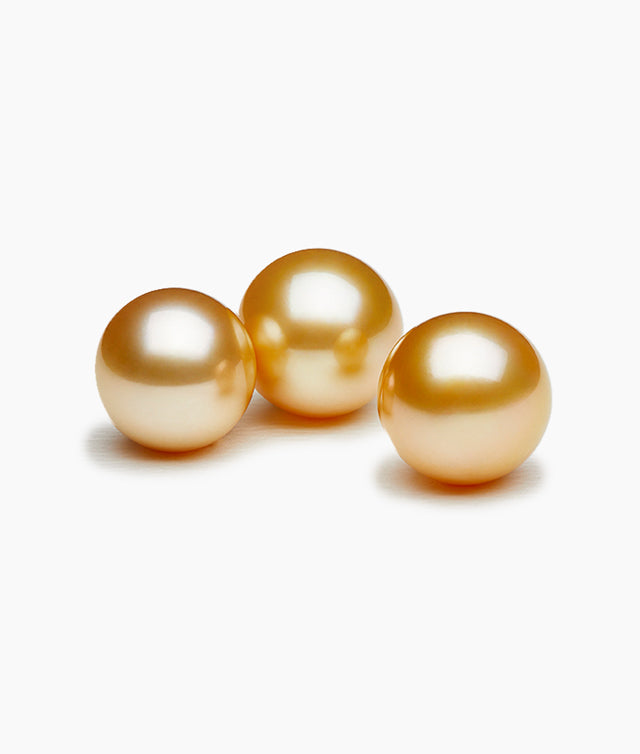 Golden Indonesian South Sea Pearls
Often referred to as 'Golden South Sea Pearls' these rare pearls are regularly used in Yoko London pieces, with the Aurelia Collection particularly focusing on showcasing the spectacular Golden hues of Indonesian Pearls.

Shape: Round, Semi-round, Drop, Baroque
Colours: Shades from pale yellow to deep gold
Size: Up to 14mm readily available, 14-17mm is rarer in fine qualities.
Production: Salt Water Gold Lipped Oyster around Indonesia.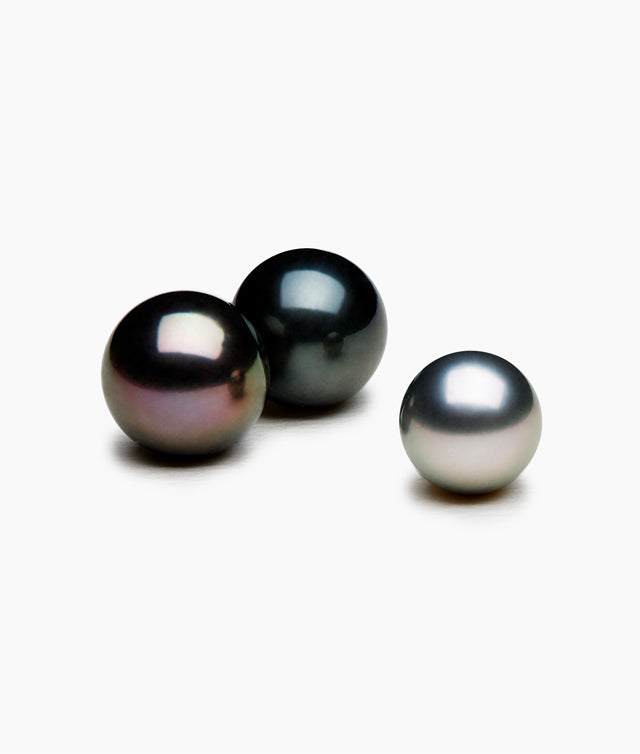 Tahitian Pearls
The Yoko London Twilight Collection highlights the unique beauty of these spectacular monochromatic pearls.

Shape: Round, Button, Drop, Baroque
Colours: Shades ranging from grey to black
Size: Up to 15mm readily available. 15-17mm is rarer in fine qualities.
Production: Salt Water Black Lipped Oyster around Tahiti and the French Polynesia.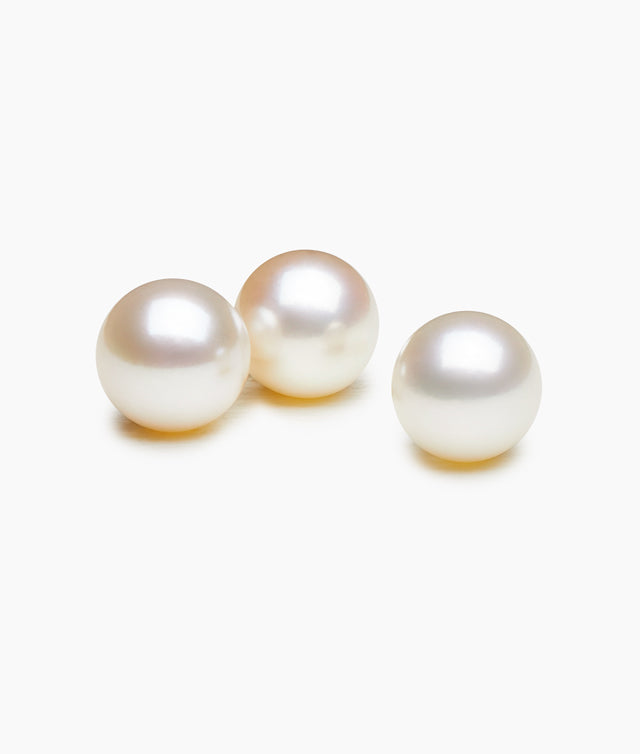 Japanese Akoya Pearls
Often referred to as 'cultured pearls'. These small white pearls can be found across our collections including Eclipse, Sleek, Starlight and Petal. Our 'Raindrop' collection exclusively uses high quality Akoya pearls.

Shape: Round, Baroque
Colours: White
Size: 3-9.5mm
Production: Salt Water Akoya Oyster in Japan
Freshwater Pearls
Often customers have the impression that Freshwater pearls are inexpensive and low quality. However, Yoko London only use the highest quality Freshwater pearls; experts in our London atelier hand select Freshwater pearls for their superior size, colour, lustre and clean surfaces.
Our 'Radiant Orchid' collection perfectly demonstrates that  the  rarest  Freshwater  pearls  can  be  just  as spectacular as South Sea pearls. The vibrant, natural colour purple pearls that feature at the centre of each piece are incredibly rare and difficult to source.

Shape: Round, Button, Baroque
Colours: White, purple, pink
Size: 2-12mm readily available, 11-16mm is rarer in fine qualities.
Production: Freshwater mussel in China
Pearl Buying Guide
There are five key factors that determine the quality of a pearl:
Lustre
'Lustre' refers to the shine of a pearl. A pearl with a good lustre is often described as looking as though it is 'glowing from within', whereas a pearl with poor lustre will look somewhat flat and dull. When examining pearls, try and look at them in a natural light to see how well they reflect the light: the sharper the reflection, the better the lustre.

Colour
The colour of a pearl is dependent on the type of pearl and where in the world it originates. Rarer colours will be more expensive.

Size
Just like with diamonds, the value of the pearl is not wholly determined by the size but rather their rarity, but as a general rule the larger the pearl the higher the price tends to be.
Shape
There are three main shapes of pearls: round, drop and baroque. Perfectly round pearls are the most desirable and therefore more expensive.
Surface
Just like other gemstones, some imperfections are to be expected. By gently rolling the pearls on a flat surface, you will be able to see any imperfections (they will show as spotting/lines or circles). These are inevitable, but the degree of imperfection or spotting will be dependent on the price. It is not unreasonable to expect medium and smaller Freshwater pearls to be very clean, but, as the size of the pearl increases you should be more tolerant of light spotting.
Pearl Care
The golden rule

Pearl jewellery should be the last thing you put on in the morning and the first thing you take off at night. Cosmetics, hair products and perfume can all cause damage to pearls, so following this rule will help you preserve your pearls' lustre.
Storage

We recommend storing pearls separately from other jewellery. Pearls are softer than other gemstones and can be easily scratched if it comes in to contact with other jewellery. Segmented jewellery boxes and  leather pouches are perfect ways to keep your pearls separate from your other jewels.
Restringing

It is recommended that you have strung pearl jewellery, such as bracelets and necklaces, restrung every 1-4 years, depending on how often the piece is worn. Keep an eye on the string; if there are signs of  stretching, discolouration  or fraying, have the item restrung as soon as possible to avoid the string breaking. We offer a restringing service in our London head office.

To arrange to have your pearls restrung you can simply take them to our Yoko London Sloane Street store or contact our customer service team to organise the service.
Cleaning

The best way to keep pearls looking radiant is to wipe them gently with a clean, soft cloth when necessary. This will remove any surface dirt, keeping the pearls' lustre visible. It is important to  remember that pearls need to be treated differently to other gemstones: they should not be submerged in water, or come in to contact with any soap or detergent: this will do more harm than good.
For further advice on how to care for your pearls, please feel free to contact our customer service team, who will be more than happy to assist you with any queries you might have: customerservice@yokolondon.com | +44 20 7025 0777
To purchase the Yoko London Deluxe Pearl Care Kit as seen in the image please click here.